Kiddies' Cabin
Kiddies' Cabin is a 63 place day nursery in Maidenhead on the site of St Marks Hospital. It has been established since 2006.
We invite you to view our beautiful nursery and incredible gardens with our virtual tour.
NURSERY ETHOS
The Berkshire Healthcare NHS Nurseries offer high quality care and education, by highly motivated, knowledgeable staffing. The individual needs of children are supported to enable them to reach their full potential.
Our learning environments allow children to explore, initiate their own play and grow as individuals.
Ofsted have rated the nursery as 'Good' since its opening up until the most recent inspection in August 2017, please read our latest Ofsted report . Ofsted poster for parents.
We are able to take children from the age of 6 months up until 31st August after their 4th birthday. Children are eligible for a school place in a reception class with effect from the September following their 4th birthday.
We are open from 7.30am to 6.00pm 51 weeks a year (the nursery is closed between Christmas and New Year and on all Bank Holidays). The nursery offers full day sessions of 10 hours (please check with the nursery for specific times). There is a minimum attendance of 2 days per week. Please see our admissions and notice policy for details of how places are offered.
The nursery in Maidenhead is housed in a single storey purpose built log cabin which ensures access for all. It has four specific rooms where the children are divided into age groups. The rooms are well equipped with a variety of toys and equipment. The nursery has two spacious outdoor play areas that boast wide open spaces for the children to explore and play. The nursery also has its own kitchen that is 5 star rated by the Royal Borough of Windsor and Maidenhead. Our nursery cook provides highly nutritious food throughout the day using menus which are based on guidance from an NHS dietician and we are able to cater for each child's individual dietary needs.
In March 2022 the Kiddies' Cabin Nursery manager and Deputy Manager gained their PANco qualification. This is a new qualification and they are very excited to share their new skills within the nursery to promote wellbeing.
The Physical Activity and Nutrition Coordinator (PANCo) qualification and specialist role is a beacon for quality provision in the Early Years and has been designed as a wellbeing-in-action intervention that promotes positive nutrition and physical activity to support the prevention of obesity within Early Years settings. The PANCo qualification gives Early Years educators a robust knowledge base and the skills to lead and support change within the setting.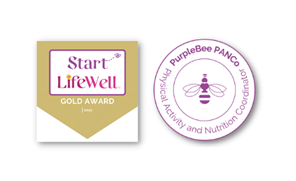 If you would like to enquire regarding the current availability of a place for your child please call the nursery on the telephone number below.
To apply for a place please complete an application form.
Address: Kiddies' Cabin
St Marks Hospital
112 St Marks Road
Maidenhead
Berkshire
SL6 6DU
Opening times: 7.30am - 6.00pm
Nursery manager: Leigh Kelly
Tel: 0118 9044637
Email: Leigh.Kelly@berkshire.nhs.uk / kiddiescabinnursery@berkshire.nhs.uk
Nursery Area Manager: Lee Owen-Macleod, 07557 207429, lee.owenmacleod@berkshire.nhs.uk
Provider details: operated by Berkshire Healthcare NHS Foundation Trust
Registered by: OFSTED
Registration number: EY460531
When you use our nursery, we'll ask for and record yours and your child's personal information. We may share your information with other organisations, such as school when they are transitioning into the care and education system, only information that is required and appropriate to support your child will be provided. To find out more about how we use your information please see our Nursery Privacy Notice.
The nursery in Maidenhead is owned and managed by Berkshire Healthcare NHS Foundation Trust (BHFT). However as with all BHFT nurseries, you do not need to work for BHFT for your child or children to be able to attend.
The nursery's primary objective is to provide a safe and stimulating environment for all children, regardless of gender, background or ability. We allow each child to develop to their full ability in a positive and fun learning environment. The staff focus on each child, recognising that each child is a unique individual who will benefit from varying ways of interaction. This is achieved by following the principles of the Early Years Foundation Stage (EYFS) 2014.
Kiddies' Cabin also believes in developing strong and co-operative relationships with parents, who the nursery recognises as a valuable source of information that will enable the staff to fully understand each child and their unique needs.
The EYFS states that 'every child deserves the best possible start in life and the support that enables them to fulfil their potential'. Kiddies' Cabin nursery staff along with children's parents aim to achieve this ideal goal with every child.
Testimonials
Our children are leaving to start school in September. At Kiddies' Cabin they gained independence away from us, with other adults and with children.
The staff were very supportive and knowledgeable and they made us feel comfortable to leave our children with them.
Chloe has looked after and supported our children and they love her.
Kiddies' Cabin is good value and we recommend the nursery.
Mr and Mrs A